Precision Tune-Up and Professional Cleaning (PTPC)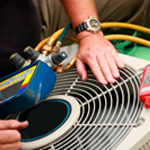 With regular maintenance you will prevent small problems from becoming big problems and ensure optimal performance of your comfort system. We also offer annual service agreements, which can reduce the cost of a Performance Tune-Up.
Regular maintenance will:
Provide longer lasting equipment
Reduce utility bills
Reduce repairs
Provide a more comfortable indoor environment
Protect your investment
Click here for our Service & Efficiency Agreement form
Here is just a sample of our procedures:
Clean, level, calibrate thermostat.
Inspect blower and fan assembly. Other notes:
Wash condenser coil and evaporator coil; when readily accessible.
Replace or wash standard air-filters.
Lubricate all moving parts.
Adjust all drive belts and pulleys.
Test all safety controls/devices charge.
Test, secure, and tighten all electrical connections and terminals.
Test humidifier operation and damper, switches, and valves.
Clean heat exchanger(s), burners and pilot assemblies.
Inspect heat exchanger(s), flue assembly, burners and draft diverted.
Clean all combustion, flue, and blower compartments.
Adjust all main air dampers.
Test all motors, starting capacitors, run capacitors, and potential relays.
Test, measure and record operating temperature and pressures.
Electronically test for poisonous deadly carbon monoxide gas.
Test for gas leaks at furnace.
Complete written analysis.